I had a great weekend painting with the fellas at The Greatest State Fair of Oklahoma. This is the second year we've been invited to do a painting demonstration at the fair. Jenny Grigsby and Rozz Grigsby (ironically no relation) have taken great care of us, and might even get us moved to a higher trafficked area next year! (Rozz, if you're reading this, I promise we'll paint your tent...)
This year we had KOWRD, MANIK & TOUR, ENTAKE, TEEF, YANK & FAME, and myself all painting. I was pretty pleased with the turnout. All the guys did great, and Manik even painted on pretty short notice. Here are pictures of the panels. If you get a chance to swing by the fair, go visit our wall behind City Arts Center, you can't miss it.
KOWRD's sketch blew me out of the water...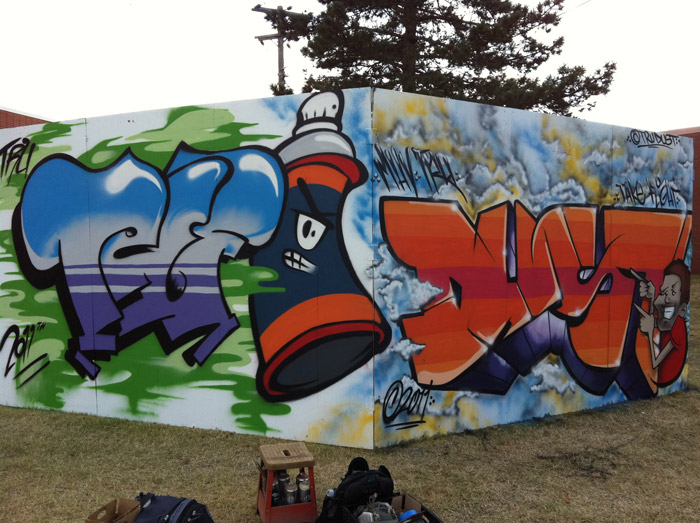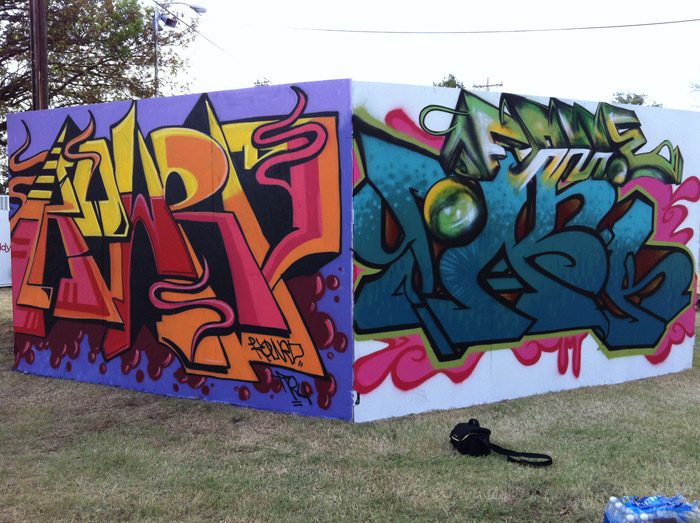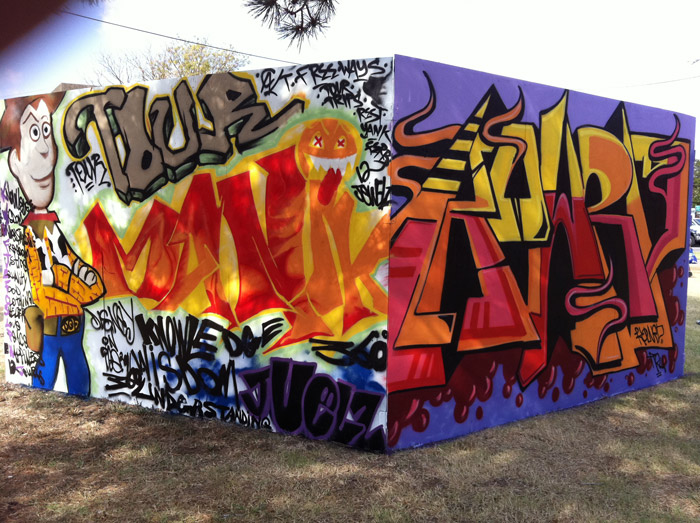 I'd say that TEEF has only painted about 5 pieces so far. He's definitely progressing at a very rapid pace. If you've watched his artwork over the last few years, it's been nothing but steady improvement. Keep your eye out for his work, it's going to be worth a lot someday.
Bobby Entaker showing us how it's done. A veteran of the OK graffiti scene, I remember when I was first getting started I learned a lot from looking at his pieces. Also a stand up guy, get one of the new shirts he just printed through us. They're sweet.
It's become a terrible habit of mine to show up to a wall to paint without having an agenda. Everytime I improv paint, I end up over working and regretting my painting. After wasting a lot of paint and completely humbling myself as an on-the-spot-creator, I realized that I HAVE to have a plan in order to paint a successful piece. I know a lot of great artists who can wing amazing artwork on the spot, but it's just not me. I am too impatient, inconfident, and too distracted to improv. Luckily I had everything planned out for this piece, down to each color. The background was on the spot, but it's a style and pattern I've already accustomed myself to. Overall, I left the fair satisfied, however I've already noticed faults, flaws, and things I'd do differently next time. As they say, "On to the next one!"
Thanks to all who support local artistry, even when it's bred from rebellion. Successful graffiti and areosol art come from a well-harnessed rebellious energy. Encourage, educate, and equip younger artists looking to express themselves (don't lock them up!)