I can truthfully say that one of my biggest influences in art has been Kaleb Nimz. Kaleb and I first met when we were 13ish at a Christian punk concert (Five Iron Frenzy, Philmore, or Supertones I think...) Our interactions were brief, but all I knew was that he was a really hyper dude. We ended up going to the same high school and I found out that he had developed a nickname among a few people as 'turbo' because he was always (quite literally) bouncing off the walls. Fast-forward 6-8 years. Kaleb had just got back from living in Ireland and was staying less than a mile from where we opened our first printshop in Rockwell Plaza. Kaleb was into everything I was in to; hip-hop, punk, skateboarding, art, bikes, design, and graffiti. It was a match made in Heaven. The next few years Kaleb and I were always trying to 1-up each other with a new adventure or piece of art. We were painting on trains or tunnels, riding fixed gear bikes, skateboarding... we even hitchhiked from Tree & Leaf to San Francisco.
Here are a few "Throwback Thursday" photos for your enjoyment: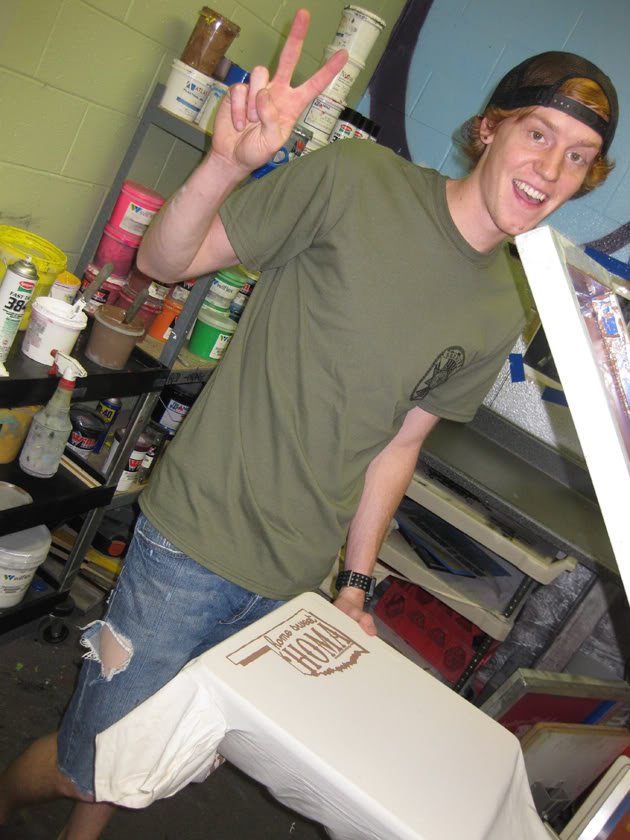 Kaleb was the first employee that Tree & Leaf ever had. He worked hard, was a good printer, and had a great eye for detail. We were both in school for art/design at the time. I dropped out and Kaleb finished up a few years later. We've both grown up since our rowdy escapades, but I still consider Kaleb one of my closest and best friends. His art and style were always miles ahead of me, and I can safely say that he is one of the best designers I have ever met.
I'm very excited to host Kaleb as this month's poster print artist. Come out tomorrow for LIVE on the Plaza and check out his work. Also check out this brief interview about his life, art, and upcoming show:
Kaleb, tell us a little about yourself. Where did you grow up and when did you start doing art?
I'm a designer, practicing photographer, blogger, cyclist, proud dad to Evie our yorkie (she thinks she is a real girl), and husband to the love of my life: Marilyn Nimz.
About half of my childhood was spent in Lincoln, Nebraska, and the the rest was spent here in OKC. After high school I spent a few years living in Ireland, then moved back to OKC to be with my amazing wife.
As a youngster I was really into plein aire painting and was heavily influenced by a teacher I had in High School. I learned from him since that's what he painted and I enjoyed doing this style of art. On my own I did a little bit of oil and acrylic painting, but mainly sketched, painted, glued, and anything else I could attach to my sketchbook.
What influenced your art early on? What most influences your art now?
The biggest influence early on was probably from my art teacher Rick McClure teaching me how to draw and paint what I saw and not what I thought I saw. Style-wise, I was definitely into skate and snowboarding magazines, so these heavily influenced my artwork in high school. At one point, I think I managed to collage every wall in my bedroom with torn out pages from Thrasher and Transworld skate and snow magazines.
Now I think most of my influences come from design and photography. I spend most of my day creating print and motion elements as a graphic designer. So when I start to create a piece of art now, I try to approach it as if computers do not exist because it challenges me to be creative outside of my daily routine and gives me a more 'hands on' approach.
What medium do you normally use in your work?
Most of my recent pieces have been mixed media pieces and combining elements of painting, drawing, and collage, but I dabble every now and then in the aerosol arts.
I shared one of my earliest art shows with you in 2009 when this space was DNA Galleries, how has your art changed since then?
Hopefully it's gotten better (fingers crossed). My art still has some of the same elements and is a combination of all my creative influences from typography, photography and design.
How does your daytime gig of graphic design play into the art pieces you create?
I mentioned how I like to take a low tech or more 'hands on' approach to creating art, but I also approach each piece like I would a design project. I start by thinking about all the elements objectively and how I want them to communicate a specific message, but also leaving room for experimentation and never being afraid to paint over and start again. Just like street art, nothing is permanent.
Do you listen to music when you produce art, if so, who or what do you listen to?
Right now I pretty much have these three music artists on repeat: Sbtrkt, Flume, and Disclosure. Also I have a good friend at work who is an avid record collector and is always bringing me records to borrow; this week he brought me Public Enemy's It Takes a Nation of Millions. I know everyone says that music sounds way better on vinyl, but it really does!
Explain your thought behind your collaborative print with Tree & Leaf.
The print is based on a quote that I've had going through my head for the past couple of weeks. It's a good reminder to keep pushing forward.
When you're not working on art and photography, what are your favorite pastimes?
I'm usually hanging out with my wife Marilyn, or going for a ride on my bicycle. Marilyn and I love adventures so any chance we get to go out and explore or travel, we jump at the opportunity.
Where can people find more information about your work?
I dont have any of my art work online right now, but if you want to see what I'm up to every week, check out my wife and I's blogwww.brewedtogether.com or follow me on instagram @kalebnimz to see my latest adventure.
Any final thoughts you'd like to leave us with?
If you're not growing, you're dying.